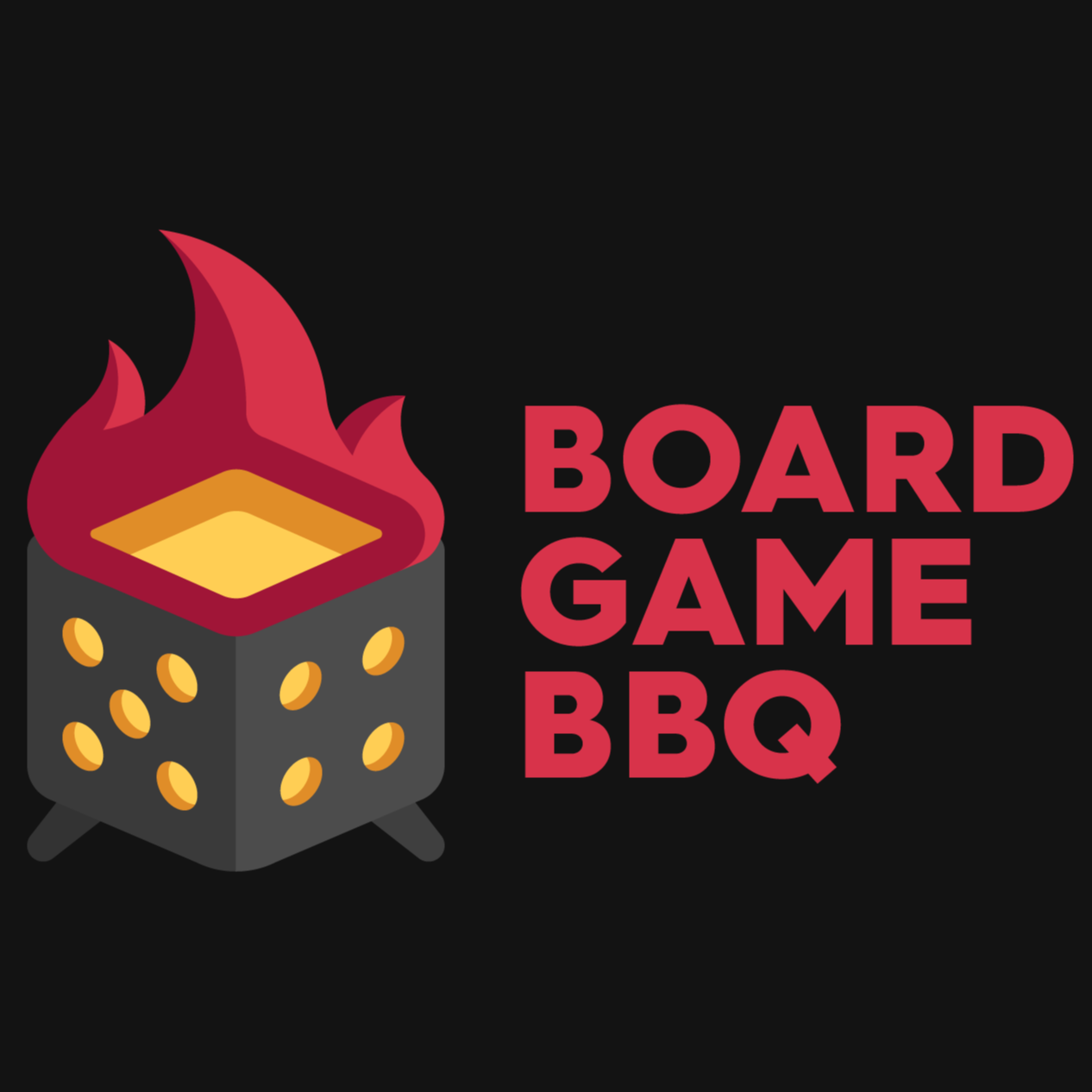 Episode 146: Special Guest: David Turczi! PluSearch For Planet X, Dungeons & Dragons 5e, Castell
On this episode Steve, Sarah and Mitch are joined by the one and only David Tuczi. David talks about the origins of the upcoming Voidfall, how he approaches designing solo mode for other people's games, his friendships in the industry, and some of his most proudest achievements in game design so far (and if you thought Adrian can talk, wait until you hear David!) It's a fascinating interview, with insights into all kinds of games, and one you don't want to miss.
In our Sizzling Games segment Sarah has been using her deductive powers in her Search For Planet X, Mitch has been assuming the role of Dungeon Master in our very own Dungeons & Dragons Adventure, and Steve has been stacking humans in Castell.
In the Bracket Battle 2.0 poor David has his loyalties divided as we announce the winner of Kanban EV vs Anachrony. Then we set-up the next Bracket Battle - Eclipse: Second Dawn For The Galaxy vs Dice Throne. To make sure your favourite goes through to the next round make sure you place your vote on our socials.
Finally, in Swear An Oath Steve has cleaned the decks and completed both of his oaths: Dinosaur World and the scenarios in Smartphone Inc, Mitch completed two cases of Chronicles of Crime: 2400 with Dan, and Sarah has continues on her miniature painting journey. New oaths this week are Alice is Missing (Steve), Fantastic Factories (Mitch), and Arkwright: The Card Game (Sarah). And David even jumps in on the Oath action by prominsing to play Gran Austria Hotel, Great Wall and Bitoku by the time he comes back on the show! (We are going to hold you to that, David!!)
Sizzling Games: The Search For Planet X (49:05), Dungeons & Dragons 5e (58:25), Castell (01:09:16)
Board Game Bracket: (01:13:35)
Swear An Oath: (01:40:22)
You can check out the Board Game BBQ's first ever D&D Adventure here: https://www.youtube.com/watch?v=ACL4rp56VMA&list=PLD5ty5eBVABPLRkedrUwyYEH4ddi3fZvl
**MONTHLY COMPETITION**
This month thanks to Advent Games we are giving away a copy of Aeon's End Legacy. To enter, head on over to our Facebook Community page and name your ideal Halloween game. Get bonus entries if you subscribe to the Advent email newsletter, and tag a friend into our Facebook Community.
**BOARD GAME BBQ GAME DAY**
Join us for the fourth Board game BBQ Day to be held in Brisbane! The event will be held on Saturday, October 23rd, from 10am-late. Tickets on sale now at: https://www.eventbrite.com.au/e/board-game-bbq-brisbane-game-day-4-tickets-169049175635?aff=ebdssbdestsearch
Unfortunately due to the current COVD-19 restrictions in NSW and VIC we have had to postpone the Game Days in both states. We are currently looking at new dates and we will communicate that to you ASAP.
**SPONSORS**
Thanks to Advent Games for sponsoring our Sizzling Games segment. Advent Games (http://www.adventgames.com.au/) are an Australian online board game store based in Sydney, NSW. Their core values are integrity, customer satisfaction, and providing a wide range of products including those hard-to-find board games.
Our Board Game Bracket 2.0 is proudly sponsored by Game Toppers LLC. They have joined the BBQ, and are even providing us with one of their Game Toppers for our Game Days! Check out their Kickstarter now! These Game Toppers are amazing, and can transform any old table into an A1 quality Game Table! https://www.kickstarter.com/projects/burky/game-toppers-30-upgrading-every-game-you-play?ref=discovery&term=game%20toppers
Our Swear An Oath segment is proudly sponsored by 2D6 Games. Check out their website at (2D6games.com.au) to see their massive range of games and don't forget they offer free delivery all around Australia. So why not order your next Sizzling Game from them today!!
**PATREON**
Yes, that's right. We have a Patreon. By becoming a Patreon member you will receive exclusive content, have access to a members only section of our discord where you can contribute to the content of the show, and much more. Your Patreon support will also allow us to expand the podcast and deliver some exciting upcoming projects that we have planned over the next 12 months.
Our team at the Board Game BBQ Podcast love what we do and will continue to deliver the same shenanigans that you have come to expect from us, and we are already incredibly grateful and humbled by all of your support. The Patreon is simply a way for you to continue to support the Board Game BBQ Podcast and help us cover the ongoing costs that come with producing two 90min episodes a week.
Being a member of the Patreon is by no means an obligation and please do not support the Patreon if it will it cause you financial hardship in any way. But if you would like to support us from as little as USD$5 a month please click the link and head to the Patreon page.
Thanks again for all of your continued support. We work hard to create a welcoming and inclusive community and you are all awesome. See you at the BBQ!! Patreon link: https://www.patreon.com/BoardGameBBQ
**BOARDGAMEBBQ.COM**
Head on over to the Board Game BBQ website for links to previous episodes, more information on all of the games mentioned, and upcoming events.
**JOIN OUR DISCORD!**
The BGBBQ now has a Discord Channel. Want to join the community and chat with the team and other listeners about your favourite hobby? Like to get updates when our podcasts are released, and get exclusive content? Need a place you can chat with other players while you're playing your own online games, overlooking for some like-minded gamers to play online with? Well, here's your invite: https://discord.gg/wgswSutRAz
**FACEBOOK COMMUNITY**
https://www.facebook.com/groups/995437657579603/
Why not join The Board Game BBQ Community page on Facebook. It's a place where everyone can post about their games, write reviews, engage with the community, and support each other. Regardless of if you are a casual gamer, a designer, an artist, a content creator - everyone is welcome!
**INSTAGRAM**
https://www.instagram.com/boardgamebbq/
Follow us on Instagram to be notified when a new episode drops, or when our Discord events are happening. And don't forget to use #oathfulfilled when you finally get a game off your shelf of shame.
Has this episode left you with a thirst for more? Here are all of the games that we discussed:
Voidfall (2023) https://boardgamegeek.com/boardgame/337627/voidfall
Teotihuacan (2018) https://boardgamegeek.com/boardgame/229853/teotihuacan-city-gods
Kitchen Rush (2017) https://boardgamegeek.com/boardgame/223953/kitchen-rush
The Search For Planet X (2020) https://boardgamegeek.com/boardgame/279537/search-planet-x
Castell (2018) https://boardgamegeek.com/boardgame/238638/castell
Anachrony (2017) https://boardgamegeek.com/boardgame/185343/anachrony
Kanban EV (https://boardgamegeek.com/boardgame/284378/kanban-ev
Eclipse: Second Dawn For The Galaxy (2020) https://boardgamegeek.com/boardgame/246900/eclipse-second-dawn-galaxy
Dice Throne (2018) https://boardgamegeek.com/boardgame/216734/dice-throne-season-one
Dinosaur World (2021) https://boardgamegeek.com/boardgame/317457/dinosaur-world
Smart Phone Inc (2018) https://boardgamegeek.com/boardgame/246684/smartphone-inc
Alice is Missing https://www.huntersentertainment.com/alice-is-missing
Chronicles of Crime: 2400 (2021) https://boardgamegeek.com/boardgame/302312/chronicles-crime-2400
Fantastic Factories (2019) https://boardgamegeek.com/boardgame/216600/fantastic-factories
Arkwright: The Card Game (2021) https://boardgamegeek.com/boardgame/300664/arkwright-card-game
Grand Austria Hotel (2015) https://boardgamegeek.com/boardgame/182874/grand-austria-hotel
Great Wall (2021) https://boardgamegeek.com/boardgame/292375/great-wall
Bitoku (2021) https://boardgamegeek.com/boardgame/323612/bitoku
--- Join in the conversation on our Facebook on Instagram pages, or drop us a line at podcast@boardgamebbq.com
If you enjoy the podcast please consider leaving a short review on your podcast app of choice. Your feedback will help us improve the podcast, and we might even read your review out on the show!