Tuesday Sep 12, 2023
Episode 259: Dracula vs Van Helsing, Splendor Duel, Age of Innovation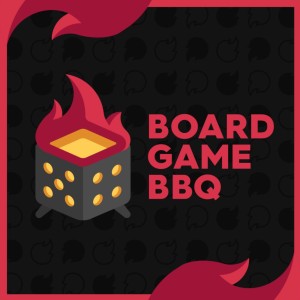 In this episode, Def, Adrian and Dan discuss the hype around Disney Lorcana, the effect of starting to cool on a game you first loved, and big things that come in small boxes! In Sizzling Games, Dan is comparing cards to catch a count, Adrian is collecting crowns in close competition, and Def is creating combinations to cultivate a culture capital.
There's also the Question of the Pod, Swear an Oath, and all of the usual shenanigans you've come to expect from the Board Game BBQ Podcast.
New Question of the Pod: How does hype around board games influence you?
Sizzling Games:
Dracula vs Van Helsing (41:00)
Splendor Duel (51:05)
Age of Innovation (58:15)
Question of the Pod Recap: (1:16:15)
Swear An Oath: (1:29:45)
PlayCon is coming in 2024. Make sure you sign-up at https://play-con.com/ so you don't miss out!
Check out our Eventbrite page for all of our upcoming Game Days: https://www.eventbrite.com.au/o/board-game-bbq-32833304483
Has this episode left you with a thirst for more? Here are all of the games that we discussed:
Earth (2023), Disney Lorcana (2023), Tash Kalar: Arena of Legends (2013), Knarr (2023), Patchwork (2014), Framework (2022), Final Girl (2021), Dracula vs Van Helsing (2023), Splendor Duel (2022), Age of Innovation (2023), Tammany Hall (2007), Lacrimosa (2022), Too Many Bones: Unbreakable (2023), Battlecrest (2022) 

**SPONSORS**
Our podcast is proudly sponsored by Advent Games. Advent Games are an Australian online board game store based in Sydney, NSW. Their core values are integrity, customer satisfaction, and providing a wide range of products including those hard-to-find board games.
**PATREON**
Yes, that's right. We have a Patreon. By becoming a Patreon member you will receive exclusive content, have access to a members only section of our discord where you can contribute to the content of the show, and much more. Your Patreon support will also allow us to expand the podcast and deliver some exciting upcoming projects that we have planned for 2023.
Our team at the Board Game BBQ Podcast love what we do and will continue to deliver the same shenanigans that you have come to expect from us, and we are already incredibly grateful and humbled by all of your support. Being a member of the Patreon is by no means an obligation and please do not support the Patreon if it will it cause you financial hardship in any way. But if you would like to support us from as little as USD$5 a month please click the link and head to the Patreon page.
Thanks again for all of your continued support. We work hard to create a welcoming and inclusive community and you are all awesome. See you at the BBQ!! Patreon link: https://www.patreon.com/BoardGameBBQ
**SOCIALS**
Support the podcast and join the community!